Do you find yourself frustrated with only being able to push back in a straight line? Or fighting the nosewheel to turn around in a tight area only having to push back a second or third time? Well FS2Crew may just have a solution for you!
Not only does Pushback Express work with Microsoft Flight Simulator, but it's also compatible with P3D and FSX!
Simply load PushBack Express once the simulator is open and The pop-up interface should appear. Here you have an array of options. Under settings you can select which pushback method you want to utilize, but we'll get back to that in just a moment. Here it's also a good idea to lock the window so that the User Interface stays on top of the simulator making it for an easier experience instead of having to alt+tab every time.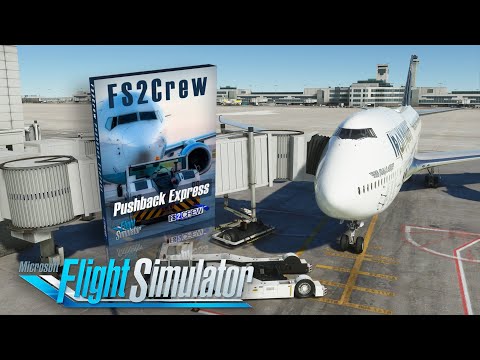 Purchase Pushback Express! 20% OFF
Click Here to Purchase
The second option you have is Toggle Jetway. This will extend and retract the passenger boarding ramp.On some aircraft this will even open the main aircraft door just before the ramp connects to the aircraft.
The third option is Toggle Aircraft Main Door. This option will only work on certain aircraft that support this feature.
Next we have a few pretty fun commands here. You can inform the ramp agent you'll be ready for pushback soon, and you can also ask the ramp agents if all ground checks have been completed.
Last but not least we have the toggle pre flight events button. Clicking on this multiple times will speed up the duration this takes, but will automatically perform all of the actions mentioned before.
PushBack Express comes with 3 main modes.
Rudder control:
Rudder control allows you to use your rudder to steer the pushback in the direction you want. We prefer using this method as it makes for a more interactive and fun experience. Once you click on start push back, the ground crew will ask you to release the parking brake. During this process the ground crew will inform you that you have enough clearance behind you and you're clear to start the engines. Once this happens, simply rotate your rudder to one direction or the other to control the direction of push back. Once you have reached your desired pushback location, click on stop push back, set the parking brake, and start your engines!
Window Options:
The second way of utilizing PushBack Express is via Window Options. Once you click on start push back, the window options will appear on the user interface. The pushback process is the same but the Windows Options method allows you to control the direction and speed of the pushback by simply clicking on a few buttons.
Distance:
The final option we have for Pushbacks is Distance. Here you can set a predetermined distance you'd like the tug to tow you to. Here you can select if you want the tug to turn you left or right, and once you've reached your desired distance, turn the aileron in either direction to initiate the final turn.
It's important to note the PushBack Express is compatible with all aircraft within Microsoft Flight Simulator. All of this information and further instructions can be found in the included PDF Manual when you purchase Pushback Express.