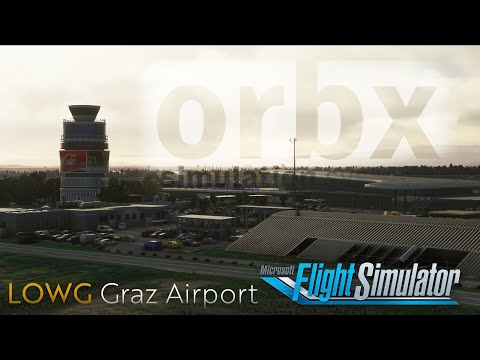 Featuring its
3000m main runway
as well as
two grass runways
, the airport sees regular traffic to many European destinations such as
Amsterdam, Frankfurt, Zurich and Vienna
as well as seasonal charters to the Greek Isles and the Balearics. The airport, incidentally located in the home town of Microsoft Flight Simulator partner, blackshark.ai, is also a short hop from well-known Orbx destinations like
Innsbruck
, Rijeka, Belgrade and Samedan.
Purchase Here:
https://orbxdirect.com/product/lowg-msfs
LOWG "Graz" is a primary international airport serving southern Austria, its located in the city of Graz, Construction of the airport began in 1913 with the construction of a grass runway and the first hangars, the airports first flight was in 1914. In the early 21st century, the number of passengers exceeded the 750,000 mark and in 2004 was just below 900,000. This led to the final extension of the current terminal building in 2003 and the construction of a second terminal in 2005.
Statistics
Aircraft movements (2019) 14,727
Passengers (2019) 1,036,929
Orbx has recreated this airport in full detail for MSFS its a true masterpiece down to every detail,
They have detailed the main terminal, and the aprons with full markings, the ATC tower is fully detailed which looks amazing
So how does it compare to the default airport you may ask well here are some screenshots of the default and Orbx Graz so you can judge for yourself, I personally think it's a major upgrade over the default one.