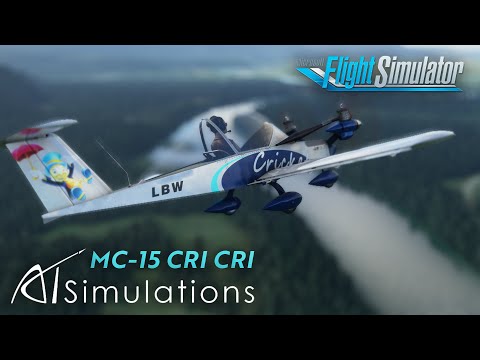 The MC-15 Cri Cri comes with 3 variants! The Prop variant, the Jet Varient, and ATSimulations have even included a Seaplane variant. Included with the MC-15 are 10 unique liveries all of which I love.
Some interesting history behind the The MC-15, is that it's the smallest twin-engined manned aircraft in the world designed in the 1970's by French Aeronautical engineer, Michel Colombian. The aircraft was named after Michel's daughter Christine.
The cruise speed of the MC-15 tops out at 135kts and is a blast to fly. Both the prop and jet variants perform relatively similar, however the jet variant will accelerate much faster. There is a smoke switch in case Flight Simulator ever includes Smoke capabilities in the SDK, and I can see why. This aircraft is a blast to fly as an aerobatic performer.
The team at ATSimulations have done an incredible job developing this aircraft. The fine details and just the over-all fun experience you get from this aircraft is something you must just want to try out for yourself.
Although the MC-15 by ATSimulations is in its early stages so you'll notice not everything is perfect. I found difficulty when starting the engines in the prop version as there are no visible switches on the cockpit to start the engines. If you hover over this gauge here you'll occasionally find a switch to start the left engine but I have yet to find the right engine starter switch. So you'll most likely want to stick with Control+E until it's updated further.
The Jet variant is a little easier to start. Make sure your fuel flow is on, ignition switches pushed forward, and simply press down on the starter switches. The engines do take about a minute to get spooled and ready for takeoff so you'll just have to wait patiently as you wait to take to the skies.
The canopy does open and close, simply unhitch the door latches, click the canopy, and now you're able to let some fresh air into the pit. To close the canopy, simply click on the canopy rail once more, lock the latches, and you're good to go.
It looks like they've added a tent to the MC-15 just behind the seat, but it's inoperable as well for the time being.